MEMORABLE MUSIC AND FUTURE FAVORITES
Coming to you almost live, from Berkeley, California …
It's Aaron's Radio Show!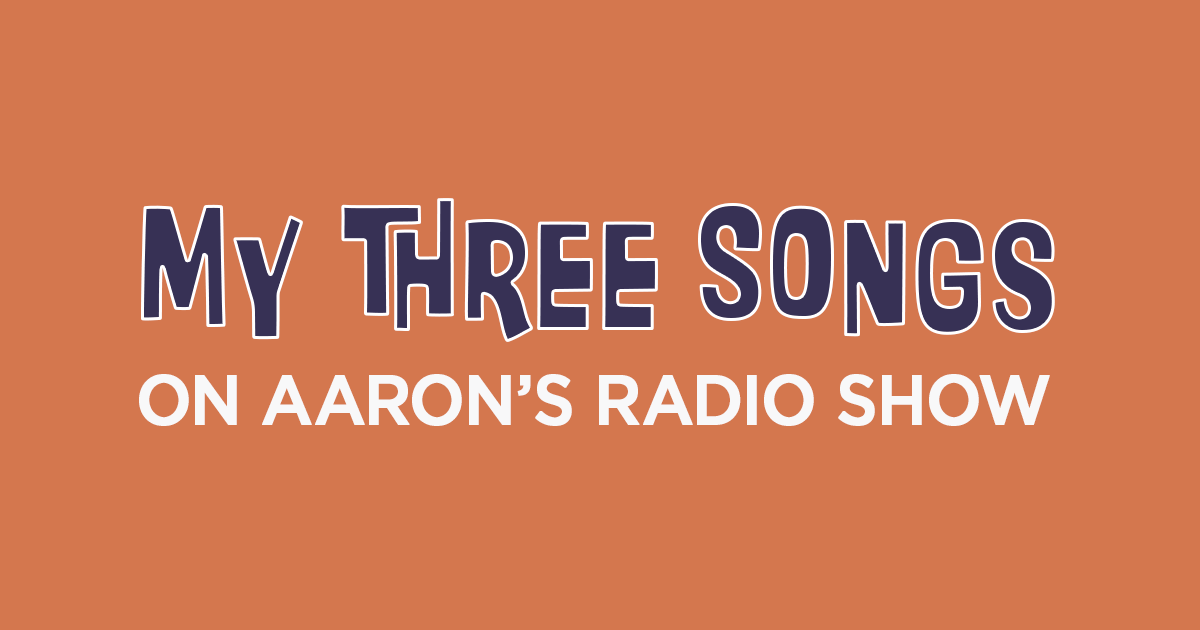 Find songs by an artist, and hear the interview for the song.
On My Three Songs, my guest selects three songs that are meaningful to them, and tells me why they chose them for the show.
On Let's Play It By Year, two guests join me as a panel to listen to and discuss three very popular songs from a particular year.
You can find a podcast version of the show – containing full interviews, but no music – on your favorite podcast service, or the podcast archive page.
Also, please enjoy the back catalog of ten hour-long episodes I produced from March through June 2021.
You're encouraged to comment on episodes, including telling us why you liked (or disliked) certain songs.
Please invite others to listen!
About Me
I've been enjoying music since I was an infant in the cradle and I distinctly recall the music I heard at age 5 when I listened to WFIL 560 AM in Philadelphia. I've been an avid music collector of 45's, then LPs, dance remix 12″s, and MP3 files for as long as I've had money to spend on them! I've disc jockeyed at parties, and at bars, and am thrilled to bring my passion and excitement about music to you through my radio show.
Please take a listen and share your thoughts, ideas, critiques, encouragement, or questions through the comment form below!
Is this show available as a podcast?
Yes and no. If you wish to listen to shows that are interview-based (i.e., currently episodes 11 and beyond) with music included, you will need to stream the show from this website. If you want to listen to an interview-based episode over one of the popular podcast services, you will only hear the interview, but no liscensed music. Check out the Podcast Page, search for the show on your favorite podcast platform, or use the set of podcast links.
Who is that speaking at the very top of the show?
What kind of music can I expect?
The show will primarily include music from the 50's through today, mostly mainstream and pop music by artists most listeners have heard of.
Can listeners provide song suggestions for the show?
Certainly! I've already started incorporating listeners' favorite songs along with background on why the songs resonate with them. You are encouraged to use the contact form (below) to share the names of songs you would like included. I'll contact you for more information, and likely record your voice to add to the show.
What makes the show stand out from others?
The theme for most episodes will be a stroll down memory lane of songs that were poignant for me during my life, or that I grew attached to for various other reasons. I've been listening to music since I was an infant and distinctly remember listening to WFIL AM in Philadelphia when I was in Kindergarten. I did professional DJ work while in college, and for several small gigs since college. I have a lot of music trivia stored up in my head!
What's the best way to comment on an episode?
You can use the comment form on the homepage, or visit one of the individual episode pages and comment on a single episode.
Are you paying royalties on the songs on the show?
I have paid for blanket licenses from performance rights organizations ASCAP and BMI. This permits me to include any songs that have been registered a total of 100% across ASCAP and/or BMI's repertories.
Are you making money from this show?
Not yet! Right now, this is a labor of love. I do have fixed monthly costs for producing the show. If you wish to be a patron of the Show, please check out our Patreon site.